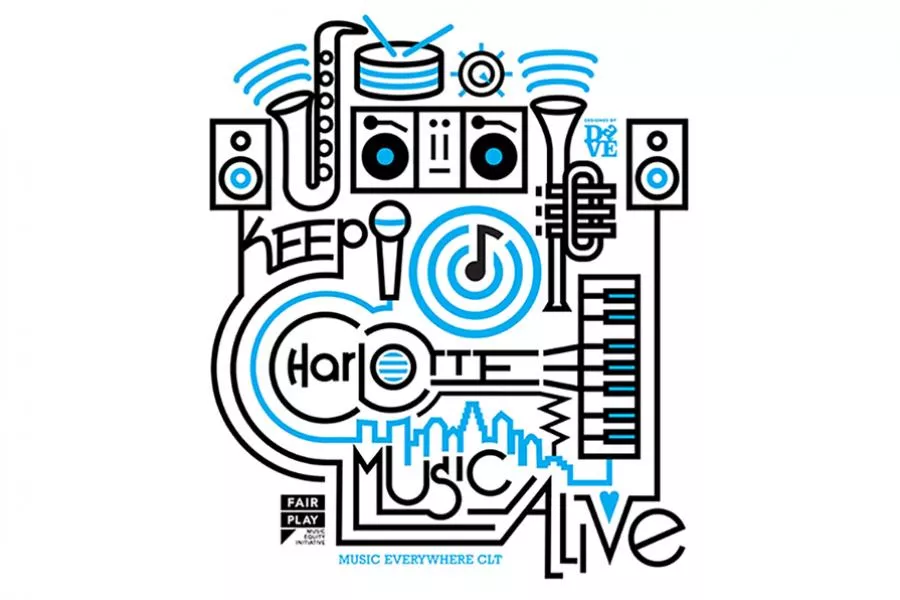 Music Everywhere CLT in partnership with FAIR PLAY Music Equity Initiative and Tosco Music, are excited to announce the launch the Charlotte Music Community COVID-19 Relief Fund. This grant program is designed to help members of the Charlotte music community, with an emphasis on independent performing or recording artists, with loss of income due to COVID-19. Through the end of September, more than 150 members of the Charlotte music community have received unrestricted, $500 grants.
As of October 13, applications to the Relief Fund Are on Hold. We encourage you to apply to the Charlotte Arts, Culture, and Creativity Fund. Deadline is Nov. 10 at 5pm.
Donate to the Fund
In many ways, it seems as if the world around us has stopped. But you can't stop the music. Even as we socially distance and self-isolate, music continues to comfort, bring joy, and inspire hope.
Music is there for us. Now, we need to be there for music. We believe that music is an essential element of a healthy, thriving, inclusive city. The Charlotte music community is broad, deep, diverse, talented, and dedicated. And right now, our music community is hurting. Even in good times, making a living in music in Charlotte is challenging. In 2018, our study showed that most area musicians make less than $10,000 per year.
Now, all at once, that income is almost zero.
Many in our Charlotte music community also work as bartenders, servers in restaurants, ride-share drivers. That income, also, has dried up.
In response, in partnership with FAIR PLAY Music Equity Initiative and Tosco Music, we have launched the Charlotte Music Community COVID-19 Relief Fund. With your help, we can help keep Charlotte music alive, and ensure that when this crisis is behind us, Charlotte music will be there to lead us out of this, stronger than ever.
If you are able, we encourage you to think about what you normally would be spending on live shows and donate it to this fund. Then do it again. Then tell others.
Every size donation matters, but if you give $65 or more, you'll receive a limited-edition Keep Charlotte Music Alive t-shirt. The shirt features the custom graphic above, designed by Dave Haire, and is produced by Recover Brands. Wear it with pride the next time we gather to nod heads at Player Made at Snug Harbor, thrash at Skylark Social Club, stomp and holler at Neighborhood Theatre, applaud appreciatively at Evening Muse, jam at the Visulite, mosh at the Milestone, smile at Middle C, well, you get the picture.
Let's do this, Charlotte.
Supporting the Fund
Please share the GoFundMe link with your networks. If you are able, please use the GoFundMe to make the Fund a beneficiary of a virtual event or program. If you are interested in supporting the Fund in other ways, please contact us.
About the Fund
The Charlotte Music Community COVID-19 Relief Fund is designed to help members of the Charlotte music community, with an emphasis on independent performing or recording artists, who have experienced loss of income due to COVID-19.
Examples include:
Income lost due to cancelled gigs or bookings, recording sessions, tours, festivals, contracts, or other events.
Income lost by teaching examples due to cancelled lessons, closed schools, etc.
Who is eligible to apply?
This grant program is designed to aid individuals in the Charlotte music community who may be struggling to pay bills due to loss of music-related income due to COVID-19. If you have other full-time employment that has not been disrupted, other sources of income or a strong financial safety net, please refrain from applying so that we may serve those most vulnerable.
Additional criteria
You should be age 18 or older and not a fulltime student.
The majority of your income should come from music-related work
You must live in Mecklenburg County
Can only musicians apply?
No. A music community is made up of all kinds of contributors. Sound technicians, producers, songwriters, studio engineers, music teachers, composers, presenters, etc. While preference in the early round will be shown to the independent music maker, who are often the most vulnerable, we encourage anyone who makes the majority of their income from music and is having trouble meeting basic needs to apply.
Can we apply as a band?
No. Each individual's situation is unique.
How much is the grant?
The grant is $500. We realize that this likely will not even cover one month's rent. Our aim is to help as many people as possible. We will give preference to individuals who have not been able to receive aid from other assistance funds, but we understand it will take a village of funding sources to meet the need. We encourage everyone to understand the local and national programs. Here is a list of programs of which we are aware.
What can the money be used for?
The grant is unrestricted. Please use it for your most pressing needs.
How will you send out the money?
We are only able to make grants by check. Checks will be mailed to the address provided in the application.
Is the grant taxable income?
Grants are considered income. The IRS threshold of taxable income from one entity is $600. Any individual who receives more than $600 (examples: two grants, a grant and a gig fee) from Charlotte Center City Partners (the granting entity) in a calendar year will be mailed a 1099 after the end of the calendar year.
How do I apply?
Please click here to apply. A panel will review applications on a rolling basis, prioritizing need, and continue to grant money until the fund is exhausted (Note: We are actively raising money for the fund here. Spread the word!). The panel is committed to equitable distribution of funds, across all segments and demographics of our population.
Can I get more than one grant?
Yes. Individuals may receive up to two grants. To be considered for a second grant, please submit a new application. Please wait 60 days after submitting your first application to reapply.
Who is Music Everywhere CLT and who is FAIR PLAY Music Equity Initiative?
Music Everywhere CLT is a nonprofit civic initiative to grow Charlotte's music scene and economy. The initiative was launched by Charlotte Center City Partners. FAIR PLAY Music Equity Initiative envisions and advocates for a fair Charlotte music scene where what makes us different is what makes the difference.